WELCOME
Welcome to the Milton Keynes Murugan Temple Trust's website.
GIRIVALAM - SPONSORED WALK AROUND TEMPLE - 23 SEP - 10.00 AM - 3.00 PM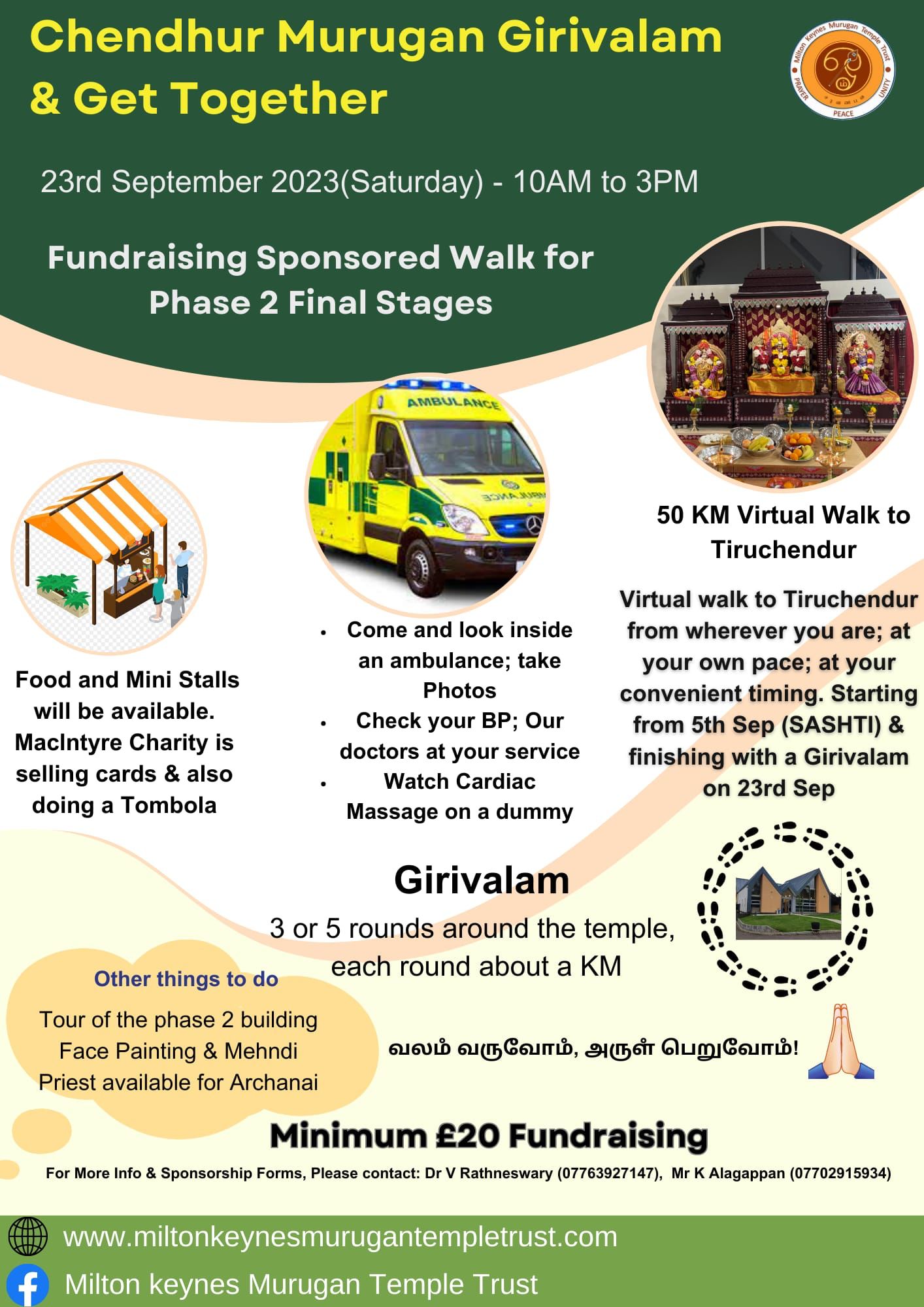 Even if you are unable to walk, just your kind presence with your family (and friends) on Saturday, at the temple would help us greatly. We humbly stretch our hands for your caring support.
உங்களால் நடக்க இயலாவிட்டாலும், சனிக்கிழமை கோவிலுக்கு குடும்ப சமேதராக வருகை தந்து ஆதரிக்குமாறு மிக்க பணிவன்புடன் கை கூப்பி வேண்டிக் கொள்கிறோம். எல்லோரும் வாழ்க, இன்பமே சூழ்க!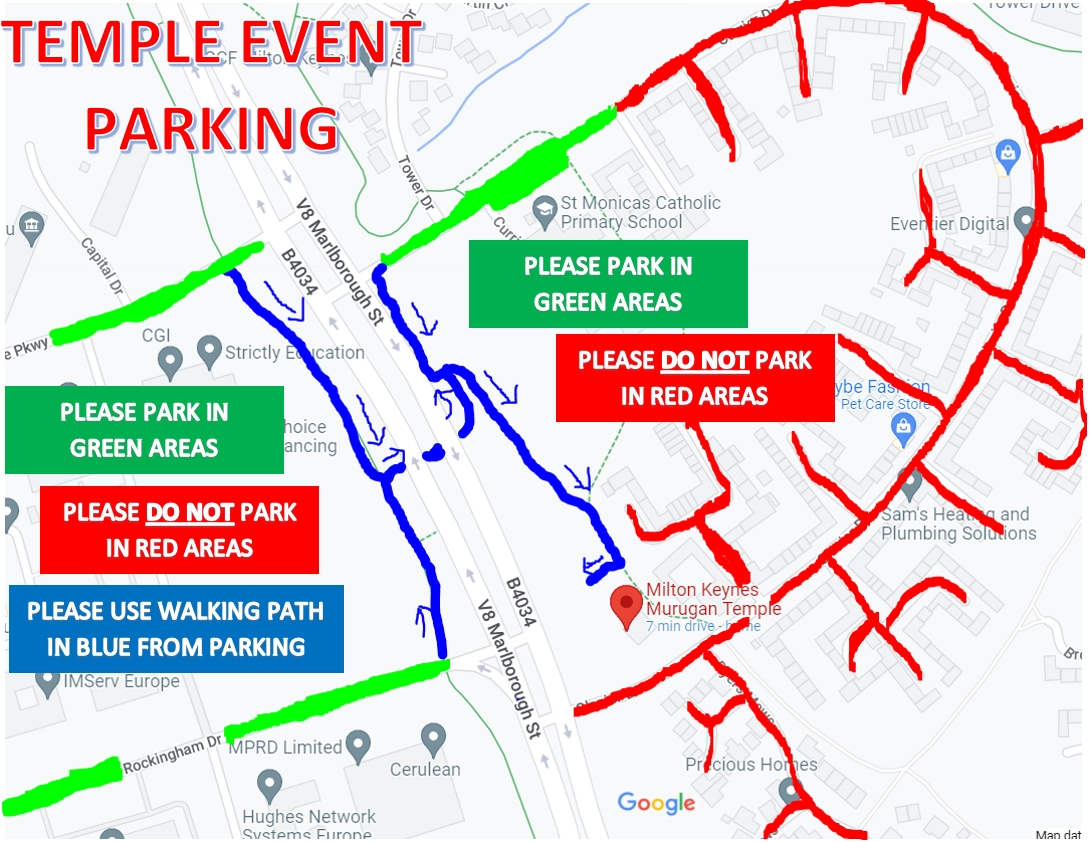 UPCOMING SPECIAL POOJAS & EVENTS
Temple Annual Day Friday, 15 September 2023, 7pm Poojau

Vinayagar Chathurthi Monday, 18 September 2023, 7pm Pooja

Giri Valam & Open Day Saturday, 23 September 2023, 11am – 4pm
SPONSOR A BRICK FOR TEMPLE BUILDING
With full Planning Permission and Building Control Approval, we are working hard on completing the Temple Project within the next 6 months.
After the Moolasthana Foundation, the Temple building area has been cleared and the previously-laid foundation exposed to enable the steel frame for Phase 2 to be installed.
The total cost of the Project has now increased very much due to many reasons such as COVID, the Ukraine War, and Brexit.
Therefore, we humbly seek your URGENT generous financial support to complete the first traditional Hindu Temple in Milton Keynes by 2023.
At the moment, Poojas are held every Tuesday and Friday, 7pm—9.30pm, and we celebrate all major Hindu festivals. Please join us with your family and friends to show your kind support.
As a registered Charitable Trust, we foster Hinduism and aim to perform charitable deeds to people in their hour of need.
For more details and how to donate, please see the middle pages.
(Charity Commission Registration No.: 1181349)
SPONSOR A SQUARE METRE OF TEMPLE BUILDING for PHASE - II - THE MAIN TEMPLE BUILDING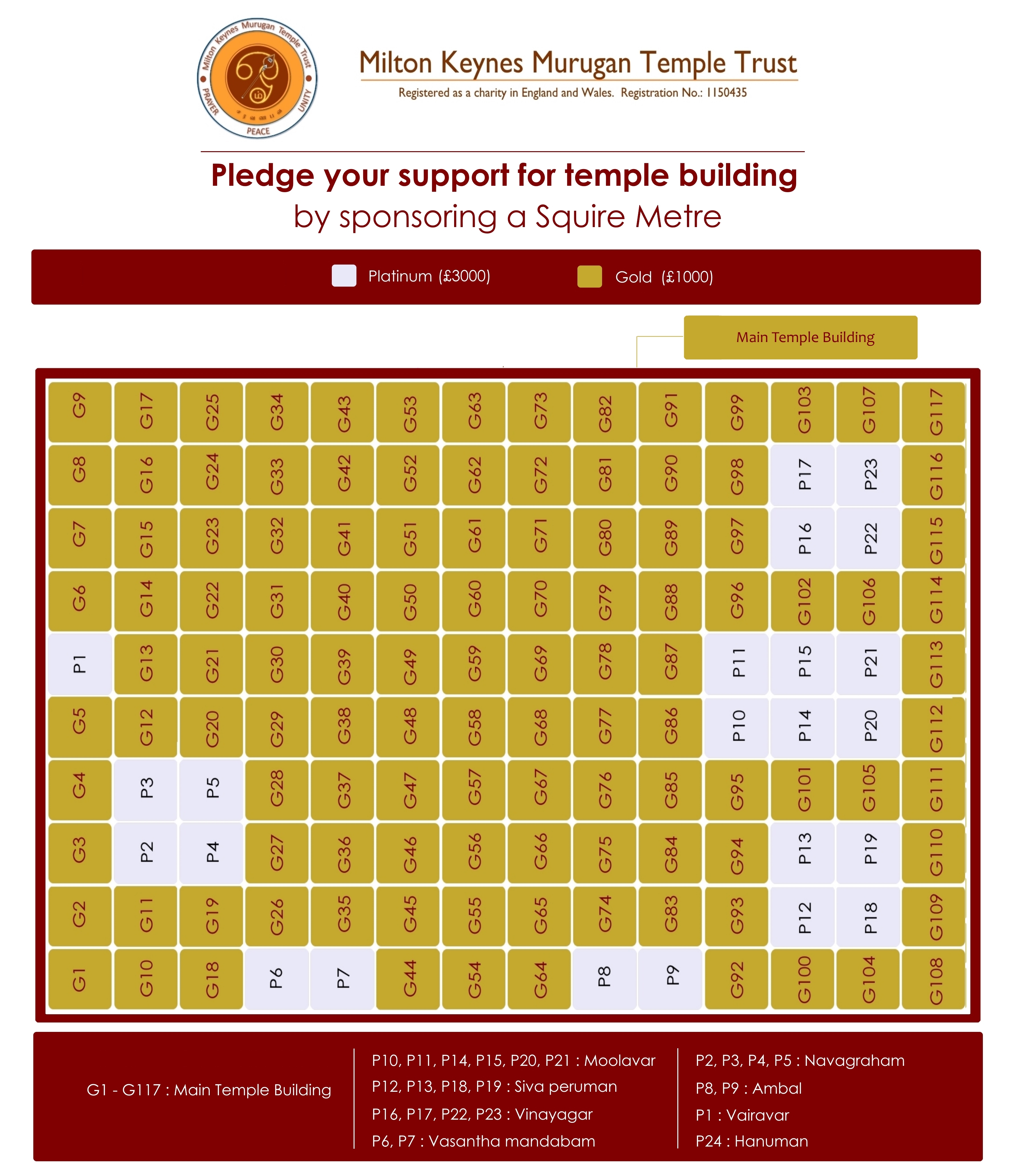 Please contact Dr. Ratneswary Veeravahu (Fund Raising Committee Chair Person) on (+44) (0) 7763 927147
Your Support
• The success of this project depends on your support & generosity

• Affordable large donations and / or monthly contributions most welcome

• If you are able to help please contact:

Chair Person (07702 915934)
Fund Raising Committee Chair Person (07763 927147)
Secretary (07729 050740)
Treasurer (07508 603856)
You can now donate online !
We are pleased to let you know that you can now donate easily and securely online through PAYPAL website, irrespective of whether you have a Paypal account or not, you can choose to donate using Credit / Debit card or through Paypal account, choose any amount you would like to donate, and even Gift Aid your donation.
The Milton Keynes Murugan temple needs your donations to complete the building which is under construction as you can see in below pictures.
If you would like to donate, please click the "Donate" button below, you will be taken to Paypal's website for secure payment. (Please note: We do not collect any payment information in this website, you will be taken to Paypal website for secure payment)
REGULAR POOJAS AND DEVOTIONAL EVENTS